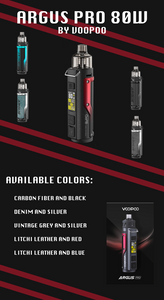 Vape Kit of the Week - Argus Pro VOOPOO
Voopoo has a reputation of excellence and the Argus Pro Vape Kit proves that once again. Not only is it made with durable and quality materials, it comes in one of the best designs we've seen.
The 80W max power output means that it doesn't sacrifice performance over design. The metal framework works great with the grip of the device which comes in leather, metal, denim, and carbon fiber.
Not only is it sleek and great to look at, the weight it carries ensures stability. The Argus Pro VOOPOO Vape Pod Mod Kit 80W also features an adjustable airflow technology so you can personalize it to your preference.
The e-juice chamber of 4.5mL is also visible so you'll always know when's the right time to restock on some e-juice.
At the end of the day this is one of the nicest vape kits that we've seen so don't miss out on your chance to buy it at wholesale price! Vaping Town specializes in providing high quality products at a great low price.
---